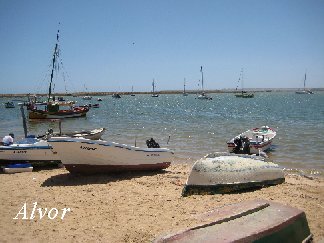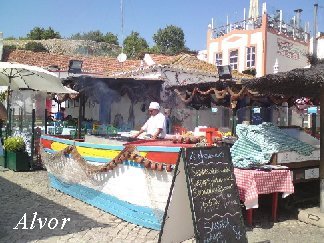 Alvor is a quaint fishing village, reminiscent of Devon. Our favourite pastime is to sit at one of the many seaside cafés to watch the sun set. The restaurant below is one of many, it has the BBQ in a boat and all can enjoy fantastic sardines. From here you can take fishing trips or more leisurely boat rides along the coast. (bus straight there)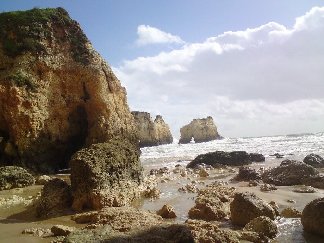 The local cliff top walk is beautiful any time of year, not strenuous with fabulous views.
It goes from Alvor Beach to Praia Da Rocha
Praia Da Rocha This busy resort has numerous water sports such as Jet skiing, pedalos and banana boats. This has got a lively club scene. (Bus straight there)
Caldas de Monchique Set in the hills, this beautiful village is picturesque and has a spa. (Open to the general public) Just up the road there is a restaurant bar with a view over the hills down to the coast. You don't have to eat there; they are happy for you to have a coffee and enjoy the view.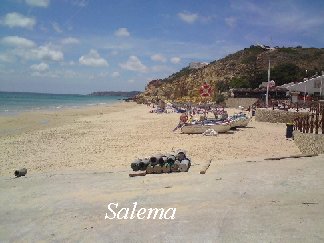 Walking in the Algarve. We keep a book of walks in the apartment for you to choose from but here are a couple of our favourites.
One we did at Easter following the river Arade; a flat walk good for children and adults alike. Goes through orchards and farmland. But beware of the dog.
For the more adventurous we have the walk we did in June which was from Burgau along the cliffs to Salema. The lunch will taste fabulous when you get there. It is more strenuous especially when we had to cross a stream with snakes in between the stepping-stones.

There are 2 local Water Parks, our favourite is Aqualand but Slide and Splash is very good for families with younger children. We enjoyed them both.
For those adventurous souls.
Kite surfing in Alvor Our 19 year old daughter has tried the local kite surfing school. She found them very friendly and enjoyed the challenge. They picked her up from our apartment, but she found taking the bus so easy she did not bother after the first day. .

West Coast For those that enjoy more challenging seas our favourite beaches are Tonel (Sagres) and Amado which is about 15 miles up the coast. This is surfer's territory so be aware of tides and brutal waves. But is worth going just to view the action and the scenery.

Tennis clubs
We played at Carvoeiro tennis club, mixture of courts, again good standard need to ring in advance. We played on Sunday from approx 10am until 12.30 three sets. Approx 7 Euros for the morning. There is another tennis club in Alvor really nice but more money for Sunday am club play, clay courts which if you like that then it is worth going for. Again seemed very welcoming.
Bridge
A very friendly bridge club meets in Boca Ratan on Monday and Thursday afternoon. Good standard, all welcome just need to ring first